Testimonials
Here are some letters from of our students in 2019
[click name to open]
Read some letters from of our students in 2018
[click name to open]
Mr. Fergal McCarthy, Principal, Kinsale Community School...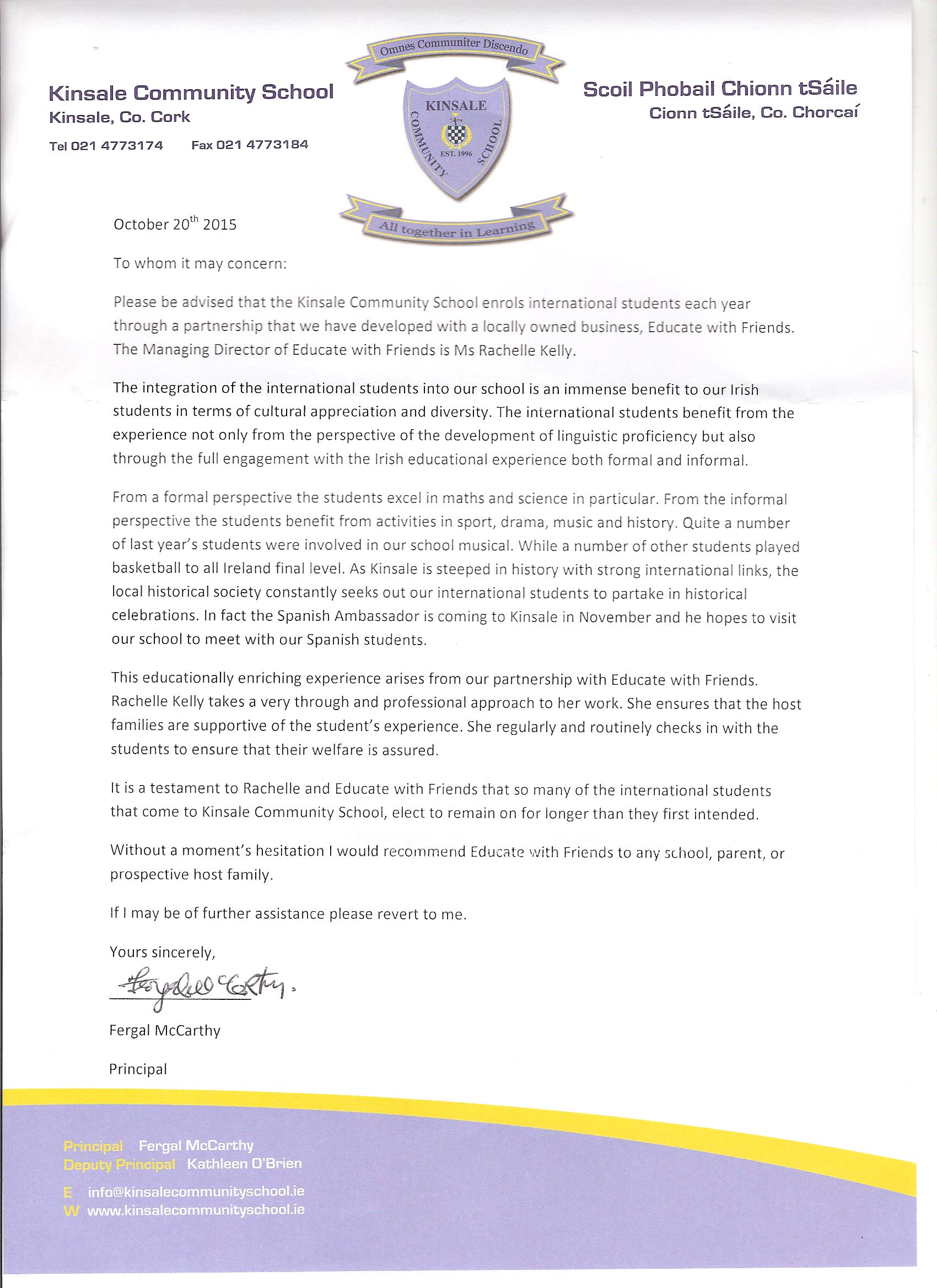 From a Maria, one of our students...
Hi, my name is Maria and I am 14 years old. I am studying fourth year in Ireland. I came last year to do third year, but because I liked it I decided to stay for another year and do Transition Year (4th year) in Ireland too.
Being able to study in a foreign country for a year is an amazing opportunity that you should not refuse. I am studying in Kinsale Community School and I really love it. There are around 900 hundred students in the school. The teachers are really nice and the students are welcoming. They have a lot of respect and consideration to foreign students like me. The people from my year were really nice with me at the beginning, because they knew it was hard for me to understand them. They had a lot of patience when talking to me and integrating me in the class. The school is not as hard as it seems. At the beginning, its hard to understand what the teacher is saying but with time you get use to it. You will even finish thinking in English.
After school I do different activities. I go to extra English class on Mondays, which is preparing me for the Cambridge Exams. In Tuesdays, I go to dance class, were you can do different types of dance like ballet, contemporary and hip hop. On Wednesdays, I go down town with my friends. We also go to the swimming pool or the gym some days. If you play any instrument, Rachelle will find you a teacher. I play the piano for the second year on Thursdays with Billy Crosbie. You can do all different types of sports in school for free, like basketball, football, hurling, comogie or table tennis, and if you want you can play tennis, hockey karate or go sailing etc..
My host family is really lovely. All the families the work with Rachelle are well known to her and they are all very nice. If you had any problem, she can find you a different one, but you won't. I have two sisters and a small brother and I love playing with them. They give me anything I need, take me to visit places, to the cinema, for dinner and more. Now for me they are like my second family, for this reason I stayed with them for another year.
I don't really know what else to say, I just want to express that if you aren't sure about going to Ireland, don't think any more about it and say yes, because it is the best experience you will have. Rachelle's agency has the best host families, KCS is a good school and Kinsale is a small and lovely town were you will find everything you need and its just 20 minutes from Cork. I hope you'll enjoy your experience in Ireland.
Thank you,
Maria Olle Grau